Aspirations Recap

Our second annual conference, Aspirations 2012, was a huge success! With 13 educational workshops, 37 outstanding speakers, and over 100 attendees, Aspirations 2012 brought thoughtful stock plan education to Bay Area pre-IPO companies. Aspirations 2012 was held on July 25th in Lucas Hall at Santa Clara University in Santa Clara, CA and the hall was filled with eager attendees who came to learn about the hottest topics (Visit our Facebook page to view pictures from the event). This year we offered CPE credits for CPAs as well as CLE and CEP education credits. Stay tuned for details on our next conference offering!

Thanks to our 2012 Sponsors:
Radford, An Aon Hewitt Company
Abbott, Stringham & Lynch
AST Equity Plan Solutions
Computershare
NASPP
OptionEase
Solium Capital
Corporate Focus
EASi
Event Partners:
National Center for Employee Ownership
Santa Clara University
Global Equity Organization
Shawna Casey, Marketing Coordinator
Stock & Option Solutions
scasey@sos-team.com
---
SOS Out and About

Where we've been...
Where we're going...
Elizabeth Dodge and Sarah Roberts will be presenting at NECF September 19-21, 2012 in Rancho Palos Verdes, CA.

In addition to participating as part of a pre-conference session on Excel for Equity Compensation Professionals, Elizabeth will speak on the panel Blockbuster - Leveraging Technology to Make Your Communications a Hit Without Busting the Budget and also on Tax Accounting Trials & Tribulations - A Primer for Emerging Private Companies
Sarah will be presenting Risky ESPP Business - Avoiding and Mitigating Risk in 423-ESPPs
4 SOS'ers will be speaking at the 2012 NASPP Conference in New Orleans October 8th-11th.

Andrea Best will speak on the panel Matchmaker, Matchmaker... Make Me a Match: Hiring a "Perfect 10" in a Complex World
Elizabeth Dodge will speak in The Mod Squad: A Guide to Modification Accounting for Stock Plan Professionals and will also moderate in the general session, The Future of Equity Compensation
Julie Mrozek will speak in Preserve Your Reserve (and Your Sanity): Conquering Challenges in Tracking your Share Reserve
Marianne Snook will speak in Mythbusters for Stock Plans: What Public Companies Can Learn from Recent IPOs. Click here for the session descriptions.
Who has joined SOS...
SOS is hiring, and in 2012, we have been able to bring a number of excellent consultants onboard. Here are the recent additions to the SOS Team:
Tara Symlar (SOS-TEAM Outsourcing)
Recent SOS Webcast Recordings and Materials:
A Fresh Look: Employee Stock Purchase Plans
---
Accounting Answers: DTA Balance Proof - The Devil's in the Details

Have you ever gotten this question from your tax or accounting team: "Can you give me the expense booked for all the outstanding stock options?"
If not, start getting ready for it since it's coming up for more and more and more SOS clients. This is the tax accountant's way of asking for the data they need to "prove out" or "confirm" the Deferred Tax Asset (DTA) balance in your General Ledger.
Most systems don't have a report that readily provides this number, but it IS something you can do in a spreadsheet (and sometimes in a custom report), generally bringing in data from two to three standard system reports.
Quick Refresher on DTAs and DTA Balances:

DTAs are booked for grants that give rise to a future tax deduction (at exercise, release, etc.) in anticipation of that tax deduction. The DTA is booked based on the expense amortized multiplied by the applicable corporate tax rate. Then, when the tax deduction-triggering event occurs, the DTA previously booked is reversed and a tax benefit/windfall or deficiency/shortfall is calculated by comparing the DTA booked to the actual tax deduction received. If/when options expire vested but unexercised, the DTA is also reversed and a tax deficiency is calculated (since no tax deduction was received).
Data You Will Need:
Shares Outstanding
In my opinion, the best way to perform this calculation is by vesting tranche, so that you can use the full fair value for any outstanding shares that are vested, and expense booked to date for any tranches that aren't yet vested (either zero or partial expense with forfeiture haircut for those with expense in progress).
The issue here is often that either your system doesn't have a report with shares outstanding by tranche, OR you have multiple tranches (in the same grant) with the same vest date (which sometimes occurs when vesting is accelerated), which may make it challenging to link data from your shares outstanding report to your expense report. In that case instead of starting with shares outstanding, you can perform the analysis at the grant-level and bring shares outstanding in as a "cross-check" rather than as the basis for your calculations. See the second approach, below, for more details.
Fair Value per Share
Recognized Expense To Date
Remember that for tranches where expense accrual is in progress, this should be haircut by your estimated forfeiture rate. This should also be adjusted for reversal of expense for any actual forfeitures.
Exercised / Released / Expired Shares
You won't need this data if you are using the tranche-level approach, described in #1, above, since starting with the "share outstanding" as the basis for your calculation already "reverses" the DTA for shares that were exercised, released, or expired and are therefore no longer outstanding.
Tale of Two Approaches
Shares Outstanding by Tranche Approach:
This approach begins with a shares outstanding report which provides one row per vesting tranche for each grant with the vest date and the number of shares outstanding for the tranche.
If the tranche is vested (determined by comparing vest date to the reporting period end date) then it can be assumed all expense has been recognized for the tranche (a requirement of the accounting standard). However, some of the shares may have been exercised. Therefore the DTA balance is computed as fair value per share multiplied by shares outstanding. If the tranche is unvested (determined by comparing vest date to the reporting period end date) then expense accrual for the tranche is either still in progress or has not yet started. Therefore to determine the amount of expense that has been booked to date, the net to date expense is retrieved from the expense report. (To Date Expense less any Adjustments for actual forfeitures). This is the DTA for the unvested tranches.
DTA Booked Less DTA Reversed Approach
This approach instead begins with the expense report which should provide the net to date expense for the grant (the detail can be summarized into one row per grant via a pivot table) this is the total DTA booked for the Grant. A tax accounting / APIC report then provides the total DTA reversed for exercises, releases, expirations, etc. This detail can also be summarized into one row per grant via a pivot table. This provides the total DTA reversed for the grant. DTA booked minus DTA reversed = DTA balance. A vlookup to a shares outstanding report pulls in the shares outstanding for each grant as confirmation. The report is audited to look for any grants with shares outstanding > 0 and DTA balance <> 0 and vice versa.
Wrinkles / Complexities

Though this is far from a complete list, here are a few of the hurdles that SOS has had to overcome when helping clients with this calculation:
Pre-123R/ASC 718 Grants
Remember that DTAs are booked for recognized expense so if you were disclosing expense rather than booking it, prior to your company's adoption of FAS 123R/ASC 718, either no DTA should be assumed, or only part of the expense for that tranche should have DTA booked. You can pro-rate the expense based on the amount of the vesting that occurred after the adoption of FAS 123R/ASC 718. Yes, you do still have to think about these 'straddle' grants even after the amortization of their expense is complete, since some of them may still be outstanding up to ten years after you adopted the standard.
ISOs / 423-Qualified ESPPs

Actually this one is a get-out-of-jail-free card, not a wrinkle. No DTA is booked for ISOs or Section 423-qualified ESPPs, so you can leave these grants out of your analysis. However, unless your spreadsheets are getting so huge as to be unwieldy, I recommend leaving the ISOs in and setting the DTA balance to zero for them; this makes for an easier tie out.
Grants to Non-US Participants
Depending on your company, your subsidiary structure and the type of awards you grant, many non-US jurisdictions do not provide a tax deduction on exercise/release and therefore no DTA should be booked and no DTA balance calculated.
Option Exchanges/Modified Grants
If your company has engaged in a large grant modification, such as an option exchange, you may have what we at SOS call "orphaned" expense -- expense booked prior to the modification that your system does not consider when calculating the tax benefit/windfall or deficiency/shortfall. The DTA booked prior to the exchange should be considered along with the expense booked post-exchange to come up with the total DTA that should be reversed at the time of exercise/release. This can often be "added in" to the fair value per share by calculating "orphaned expense per share" at the time of the modification.
Section 162(m)
This fabulous piece of the IRS Code may limit the tax deductibility of compensation in excess of $1 million to some of your top execs. Stock options, gratefully, are exempt as long as certain requirements are met. However, time-based RSUs are generally not exempt, so you may not want to calculate a DTA, or perhaps not a full DTA, for RSUs granted to those at your company subject to 162(m).
True Up at Vest
If you are using the True Up at Vest approach for your expense amortization, then you will have situations where shares outstanding are zero (since the grant has been cancelled) but there is still DTA on the books for that grant, since the reversal of expense does not occur until the vest date of the tranche. Generally this means that you should use the Expense Booked and DTA reversed to compute your DTA balance and then use Shares Outstanding as a cross-check rather than the basis for your calculations.
Early Exercises
Grants that were exercised before vesting are a completely different story. Instead of booking a DTA, you book a Deferred Tax Liability (DTL), since the tax deduction has already occurred and then you reverse the DTL as the expense is amortized.
Grants Outside Your System
Hopefully not too many of you have this issue, but in some cases you may be calculating and amortizing expense for 'special' grants outside your stock plan system. Then the DTA recalculation becomes much more challenging, especially if for non-employee grants, where you have a different fair value for each vesting tranche.
Some grants we've seen being expensed outside systems:
Non-employee grants
Modified grants
Performance options
Performance RSUs with "specialized" requirements (delayed service-inception dates, or "reverse FIN 28" amortization)
Performance grants with goals not set on grant date
Questions? Comments? Feel free to drop me an email at edodge@sos-team.com.
Elizabeth Dodge
Vice President, Product Management
Stock & Option Solutions
edodge@sos-team.com

Elizabeth is the Vice President of Product Management for Stock & Option Solutions, Inc. (SOS). She also runs the Strategic Solutions and Accounting Solutions groups. Her responsibilities include monitoring new developments in the equity compensation arena, performing market research, speaking at industry events and helping SOS clients with all kinds of equity compensation challenges.
---
SOS Consultant Corner: Process Automation: Unconventional Use for Microsoft Excel

Any job as a stock plan administrator involves handling a lot of data and communicating that data to other people or groups. Often you have to send the same information to different people in different formats. Putting those communications together can be time consuming and, if done manually, can leave a lot of room for error. I'm a firm believer in using the tools we're given. One of my favorite tools, although very well-known, is often underutilized. I encourage everybody to learn about Microsoft Excel and take advantage of it. (Start with the Help menu. It's very comprehensive, straight forward and easy to use.)
Specifically, one thing I like to do, which I almost never see other people doing, is to prepare routine letters on Excel rather than on Word. It takes some initial set-up, but saves a lot of time in the long run. I worked for a company that used a familiar third-party provider as broker and record keeper for their stock program. But, However, Directors and Officers were permitted to use any brokers when exercising stock options. Processing each of those "outside" option exercises involved sending letters to the broker, transfer agent, payroll and optionee.
In situations like that, instead of typing the same information into four different memos, you can put the details of the exercise (optionee name, exercise date...) into an Excel worksheet (Sheet1). Then, copy the text of your form letters into separate worksheets within that same Excel file. Format the letters, and insert formulas within the text to pull in exercise details from Sheet1.
Here's a simple example. If you have exercise details in Sheet1 as follows,

you can set up Sheet2 as shown below. The highlighted cells are pulling details from Sheet1 with the use of formulas. Cell D11 below contains the formula =Sheet1!A2&"." to pull in the detail of row one in the Name column above. Cell G22 below contains the formula =Sheet1!C2, etc.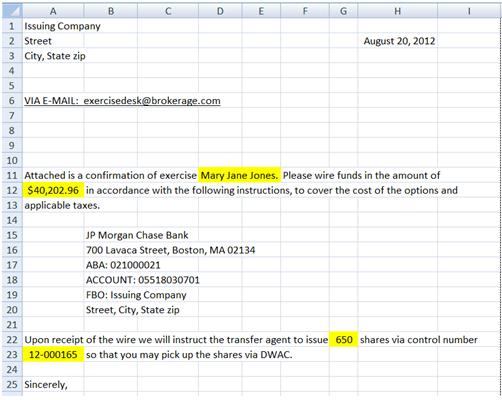 Of course, you will always want to review the letters for completeness, but using the method above in preparing your standard letters can cut out a lot of repetitive steps, saving you time for everything else on your to-do list.
Janet Bernard
Senior Equity Consultant
Stock & Option Solutions
jbernard@sos-team.com

Janet began working in equity compensation in 1997. She holds a bachelor's degree in mathematics and a master's degree in HR management and earned her CEP in 2004. She has been a member of the SOS team for almost a year.
---
Free SOS Educational Webcast:

Taking Ownership of Share Ownership Guidelines


September 27th, 2012



Description:

Share Ownership Guidelines, wherein executives are required to hold a specified amount of his/her company's shares, are becoming more and more popular. Our panelists will outline specifics of the common and lesser-known details behind these programs. In addition, we will review past and present survey results reflecting the increase in the number of companies who have such programs and the provisions of these guidelines. Finally, our panel members will share best practices as to the communication and monitoring of share ownership guidelines.

Speakers:
(One hour of Certified Equity Professional continuing education credit is available for attending. See the CEPI website for more information on CEP continuing education requirements.)

---
Medicare Alert

No, this is not the AARP newsletter, but there are changes coming to Medicare withholding tax structure that are sure to affect a large percentage of issuing firms. Under the Affordable Care Act, in 2013 the Medicare tax rate will rise from 1.45% to 2.35% for those with adjusted gross income over $200,000 ($250,000 for married joint filers), a 0.90% increase. Investment income, including stock, will also be subject to an additional 3.8% surtax, and this will again apply to those with adjusted gross income over $200,000 ($250,000 for married joint filers). The company-side withholding obligation is unaffected by this new law. A more thorough examination of these coming changes can be found in the NASPP blog.

Stock plan professionals should plan on seeing in uptick in activity as many affected participants may be looking to sell in advance of the change. More importantly, not all stock plan systems will be equally adept at handling this change. We recommend you look closely at your platform, and discuss these changes with your vendor if necessary to ensure that you are ready to go when the clock strikes 2013.
---
SOS Xposé
...tender tidbits about people and players in our industry...
Breaking Baby News...SOSer Justin Docter and his wife Liz had a baby this morning! David Francis arrived weighing 7lbs., 9oz., and measuring 20 inches. Congratulation to Liz, Justin and big sister Ellie on this big day!
Change of Scenery... Sue Berry has joined the Legal Department at FireEye as Manager, Stock Administration. Jennifer George has taken a new position at PwC as Director, Global Human Resources Services. Catch up with her at jennifer.b.george@us.pwc.com . Martha Steinman (President of NASPP NY/NJ chapter) is now at Hogan Lovells where she co-chairs the executive compensation and employee benefits practice. Reach her at martha.steinman@hoganlovells.com.
Running Around... Jen Baehr completed her first ever 5K race! The race was in Fairfield, CT and she finished in 43 minutes, 29 seconds. Way to go Jen!
Late Night Cravings... Sinead Kelly from Baker McKenzie is expecting her second child in August. Congrats to her and her husband Garrett!
Industry News...
EASi...On July 2 EASi launched a Certified Program for users and partners. ..Matt Abram passed his level 3 CEP exam, making him a full fledged CEP and he was elected to the Phoenix NASPP chapter committee...Robin Silke will head up the new GEO East Bay chapter.
NASPP... has a new online program, "Proxy Statements 101 for Stock Plan Professionals" which provides an in-depth tutorial on the proxy disclosures for stock compensation; just in time for this year's proxy season. ..The 20th Annual NASPP Conference in October is shaping up to be a great event! The NASPP has some exciting new things planned for this year, including an "Ask the Experts" booth and trick-or-treating in the exhibit hall. Miss it and you'll be sorry!
Solium...in May 2012, Solium acquired the CapMx® business of SVB Analytics Inc. With the addition of CapMx, Solium says that it "extends its reach into the private market and rounds out its end-to-end suite of global equity administration solutions for companies in any stage of growth". Read the press release.
---
Did you miss an issue of Xtra? View our complete newsletter archive from our website here
Miss a webcast? You can find links to recordings, as well as the materials, on our Webcast page
---